U-Multirank is an interactive tool for ensuring the higher education transparency, offering an alternative approach to comparing the activity of higher education institutions. This year, the ranking includes information on 1800 higher education institutions from 92 countries (to compare, last year they included 1711 HEI). The number of Ukrainian universities included grew from 54 to 69.
Among the Ukrainian higher education institutions represented in the rating, National University "Yuri Kondratyuk Poltava Polytechnic" was ranked 39th. University became 8th in International Orientation among the Ukrainian participants.
Unlike the traditional rankings, U-Multirank shows the institutions' activities in multidimensional indicators and ensures a whole system of checking the institution data reliability. The information of higher education institutions is shown in five categories, such as teaching and learning, research, knowledge transfer, international orientation and regional engagement. Enrollees, researchers, higher education managers, academic staff and other higher education system stakeholders can compare the activity of the higher education institutions both as a whole and at the level of specific study programs, with a few dozen indicators, by choosing the important ones for every individual user. The collected data are used for representing the results of the higher education institutions' scientific activity on the U-Multirank website, allowing to receive full information on their competitive advantages and development zones.
"In 2020, 69 Ukrainian higher education institutions participated in the project. Five Ukrainian HEIs were included in the Top-25 world universities in Contacts With Work Environment, International Joint Publications, Co-Publications With Industrial Partners. Thanks to the high quality of data provided by higher education institutions of Ukraine, 4 new industry ratings were formed and 6 existing ratings updated at the national level. The most powerful aspects of the activity of Ukrainian higher education system in 2020, according to U-Multirank, are still teaching and learning and regional engagement," the Deputy Minister of Education and Science of Ukraine Yehor Stadnyi announced in the Letter of the Ministry of Education and Science No. 1/9-314 of 10.06.2020.
A new aspect of this year's publication was the information on the organization of online education by higher education institutions, which had been collected by U-Multirank from 2018. In particular, the indicators included institutional data on the availability of educational programs taught online, the part of digital teaching methods in education, students' feedback on different aspects of online education.
U-Multirank is developed and implemented on the initiative of the European Commission by an independent consortium led by the Centre for Higher Education (CHE) in Germany, the Center for Higher Education Policy Studies (CHEPS) at the University of Twente and the Centre for Science and Technology Studies (CWTS) from Leiden University, both in the Netherlands, as well as the Foundation for Knoweldge and Development (Fundación CYD) in Spain. The project is financed by the European Commision, Bertelsmann Fund (Germany), and the Santander commercial bank (Spain).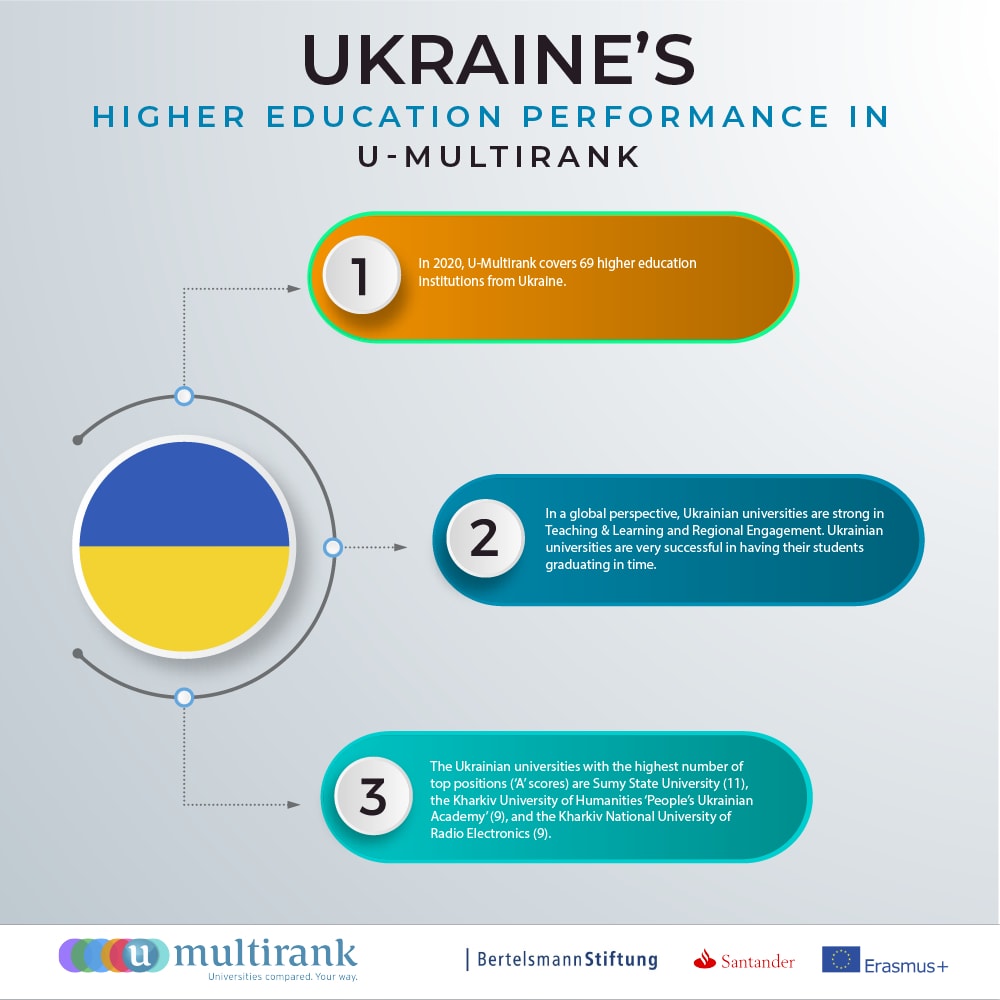 Media Center of
National University "Yuri Kondratyuk Poltava Polytechnic"